Virtualization
You'll notice appreciable improvements in your servers' and PCs' performance when you "virtualize" them.
Flexibility. Reducing computer maintenance issues is key to high productivity. Virtualization is how to do it, provided you have the right IT partner to set it up. All it takes is for Frisco Technology Solutions to turn one of your servers into the equivalent of many servers so your employees can run multiple operating systems on one device, and your IT admin can move the contents of entire machines from one to the other without so much as lifting a finger.
IT Efficiencies
If some employees need to use a Mac or a Linux program for certain job functions, but they also need to use Windows like the rest of the company, they can switch between "virtual" machines on a single server using their primary device, instead of logging in and out of different servers and switching between different devices.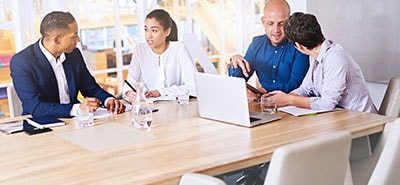 Shared Resources
Virtualization uses software to emulate hardware, allowing you to expand computing capabilities effortlessly -- software is ether, hardware is heavy. For example, if you open a branch office on another continent, setting up servers there is as easy as copying and pasting, instead of shipping, receiving, and installing physical machines.
Frisco Technology Solutions' virtualization services reduce the amount of hardware you have to use. This saves energy, frees up floor space, and allows you to add new users quickly. Plus, you'll enjoy faster connections to the software apps on the virtual machines and fewer hardware glitches -- both of which lead to greater productivity over the long term.

Our CEO has the highest-level ISC2 CISSP professional certification.

Our technicians possess bachelor's degrees at a minimum.

Our IT services are customizable for all businesses in all markets.