Networks & WiFi
Internet and intranet breakdowns can cause employee downtime, dissatisfied clients, and lost opportunities.
Connectivity. Slow and unstable networks can cause major productivity problems. If employees are constantly losing their connections to your internal servers or cloud-based apps and data, then tasks take longer to complete. This isn't simply frustrating or inconvenient, but rather a weakness that can lead to dissatisfied customers, which is why it's critical to ensure your network design and architecture are sound for every device that needs to connect.
Optimization
You may not have certified network specialists on staff, but we do, and they're ready to help. They're ready to get to work on assessing, reorganizing, and testing all your IT pathways and endpoints by reviewing your existing network's performance, identifying and removing failure points, and tuning up all the hardware settings and structured cabling connections, too.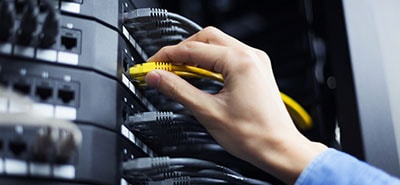 Security
Just as important as reliable network performance is strong network security. So analyzing and optimizing your voice, data, and video connectivity includes scrutinizing every aspect of network and data cybersecurity. We'll make sure traffic coming into and going out of your network is safe by upgrading your networking equipment, servers, and data protection apps.
The Frisco Technology Solutions Networks & WiFi optimization process involves thorough evaluations and state-of-the-art equipment recommendations. Once your network's speed, capacity, and security settings are enhanced, you'll enjoy faster and more stable connections, enhanced employee productivity, and more robust protections against hackers.

Our CEO has the highest-level ISC2 CISSP professional certification.

Our technicians possess bachelor's degrees at a minimum.

Our IT services are customizable for all businesses in all markets.