Data Backups & Recovery
Safely storing data so it's easy to recover after a disaster is one of the first things you should ensure on your network.
Preservation. Without your business data, you have no business. Your employees can't work, your customers can't be served, and your vendors can't get paid. And given the fact that disasters like floods, fires, and major storms show up unannounced, you need to put a data protection plan in place now to ensure your daily operations continue unimpeded should something happen to your network and servers.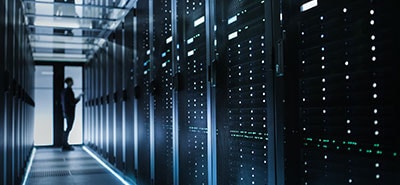 Features
Real-time, round-the-clock data monitoring & saving
State-of-the-art storage devices, onsite or in the cloud
Clear-cut post-disaster procedures to restore data fast
"Recover anywhere" functions to restore to any platform
Dedicated customer support for any data-related issues
Benefits
Freedom to back up any type of file from any device
Professional backup solutions mean less work for you
Flexibility to choose continuous or scheduled backups
One-click restorations takes the hassle out of recovery
Peace of mind from knowing there will be no "data downtime"
Strong Data Backup & Recovery solutions contain three parts, and if yours does not, we can help. The first step is to set up the technology that guarantees your data gets saved in real time and is stored securely, either onsite or in the cloud. The second step is to make sure saved data is always accessible by your users, on demand and from any device. And the third step is to streamline the "restoration" process post-disaster so you never endure dreaded "data downtime."

Our CEO has the highest-level ISC2 CISSP professional certification.

Our technicians possess bachelor's degrees at a minimum.

Our IT services are customizable for all businesses in all markets.